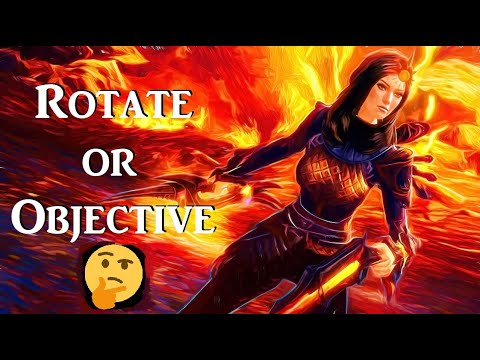 Lately I've been hearing a lot of people discussing rotation and many people will be familiar with the phrase "fight on point", or fight on the flag, or fight for the objective. And chances are if you are reading this, you probably said it too. It's not that this is right or wrong, because without a doubt you should fight for the objective, its a question of how. Fighting for an objective is important, but how you obtain the objective is dependent on many things such as how the objective is obtained. I want to go over a few of the ideas going on in my head when I think of rotation and ideal decision making to help newer players understand there is more than just the objective and maybe raise some discussion on the higher level point of view of conquest PvP.
If you need to stand within a capture point there are different roles and methods for achieving that. You can be the strongest person inside it and bully everyone else out, you can be the most deadly and kill everyone else and be the winner by default, or you can even use deception and movement to contest more objectives than others. There are different roles and matchups that you need to consider as well because you may be stronger than a player but another player is stronger than you. in Situations where you arent the stronger one, you want to play a more deceptive role, and in situations where you are stronger you play more aggressive.
There are many other objective types such as channeling a buff which will favor players with control effects or also objectives to land the killing blow on a mob, and that would favor those with burst damage. Thats good and all, but the main point I want to make is that in some way shape or form you need to provide presence however your role or playstyle provides it. However, one thing that players can and often do is tunnel vision on their role and forget that performing your role requires you to be alive.
Thats right the single most important thing to winning an objective is to participate, and if you die you get sent to spawn you lose that objective or your team has a significant disadvantage. What that means is if you must stand on a capture point to win the objective but that also means you are going to die to someone stronger than you, or being outnumbered, you will do much better not standing on that capture point. I know this sounds pretty obvious but its a very common question. While you should fight for the objective, you give up the objective if you die commiting to it. So in some situations not investing into an objective and playing safer or going to another objective is better than dying for something you cant do. You are not required to fight for the objective 100% of the time, and its actually better you don't because it can be predictable and easy to counter.
Its like this ancient chinese proverb that i love to repeat. It goes like this. If you chase two hares, you will catch none. What this means to me is that if you are greedy and try to catch two rabbits instead of being humble with what you can do, you will end up with less than if you just focused on one. The same thing goes for trying to perform a role you arent specialized for or have little experience with. Youd be much better elsewhere even if your team needs this right now. Taking a 1v1 as a support is probably not a good idea, you should be supporting your team. Don't get me wrong though. You should absolutely push your limits and try to fill in your team's weaknesses, but there is a fine line that you need to get to where youre constantly pushing and seeing how much you can get without crossing that line and being punished. And remember others are trying to do this too, so if you have too little presence then they might get away with making greedy plays for free.
So while dying is a very large detriment to your team, taking risks is important as well. If you die in the game its just a game you dont die in real life if you die in game. Also sometimes losses can help you improve. How do you think Vegeta became so powerful? Yes he did train under the harshest environments and had a massive ego, but he also got his kitten kicked plenty of times. It's usually better to be on the aggressive side than the passive side because you force others to react to you rather than you reacting to them. This is like going first in chess, the enemy is always one step behind you and its a huge advantage. Also all of those things I said about not dying apply to everyone else as well. So if you're scoring tons of kills you can win the objectives because the enemy isn't there to contest it. And if you win the objective youre now at an advantage. All those cooldowns you blew to win the fight are going to be paid off if you win because you end the fight and can get them back for the next encounter.
This leads to the snowball phenomenon. If we think of things as a game of numbers. You can have 5 vs 5. If one person is eliminated that becomes a 5 vs 4 which is much easier to handle than a 5 vs 5 so they can score even more kills and eventually it becomes easier and easier to win as you maintain your advantage, or harder and harder to win as you lose more allies. It sounds very deterministic and contingent on the very first kill right? Thats why games put in multiple objectives and respawn timers, so that a losing team can regroup at another objective and still have a chance moving forward. Continuing to fight at a losing objective is going to result in that snowball getting harder and harder to push back the more you get outnumbered. Thats one of the main reasons why you should not always fight for an objective.
Thats pretty easy right? Losing an objective just means you should disengage before you die. Theres more. What if youre winning and the enemy leaves to another objective. You can stay and win that objective, but the unaccounted for person can get kills on your team elsewhere and lead to you now being at a disadvantage and now you can't defend the objective you stayed at. The other option is to follow and give up the objective as well to prevent the enemy team from snowballing into yours. Each option has its risks and its rewards, and theres no definitive answer really. It would depend on many factors such as role, timing, and the positions of other players. That kind of complexity is what creates interesting and meaningful situations that keep us entertained, and simply stating fight on point is not going to work out for everyone. But at the same time who has the time to write or read a wall of text in the heat of battle explaining every matchup you can take and when you do and dont need help. Sometimes simplicity is necessary and telling someone to fight on point is better than reciting sun tzus art of war.