This video is something quite a few people have seen at this point, however I apparently live under a rock and was just shown this yesterday in a response to my thread regarding an optional subscription for Guild Wars 2. After much back-and-forth discussion with some fantastic members of the community we did ultimately determine that an optional subscription would not benefit the game nor the community, seeing as funding isn't the issue in regards to a lot of the issues that were brought up, but rather the priorities of ArenaNet. That isn't to say that priorities of ArenaNet are wrong, but rather that they are different from some members of the community's.
That being said, when I watched this video I realized that a lot of the issues being discussed in the thread and which sparked the discussions to begin with are in this video, even if they're only touched upon briefly. I highly encourage everyone to watch this as Wooden Potatoes did a fantastic job with it, and I hope that ArenaNet heeds his advice and criticism and we see some of these issues resolved in the future. I will do my best to summarize the topics discussed in the video below it, in case you'd rather see it in text form, or you'd like something you can easily quote and discuss. Enjoy!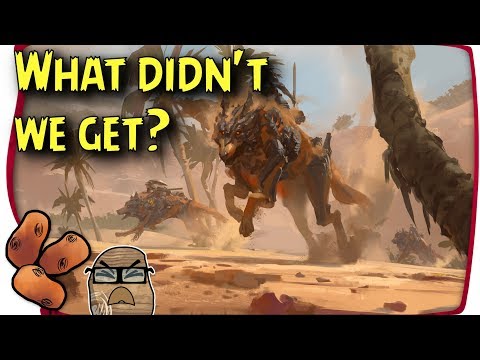 So, what does Path of Fire fail to deliver?
1. Build Templates - This has been a much requested feature and is thankfully coming, we just don't know when.
2. Adventures through core Tyria - These were mentioned at launch, and although HoT and PoF has them, there are still none for core Tyria.
3. Belcher's Bluff/ Card Games/ Minigames - Adding fun ways for the community to socially interact with one another would greatly benefit everyone, and would be something we could do with our friends, and to make new friends.
4. New Race - A new playable race would allow new players and veterans to play alongside one another and interact with one another in more ways and increase the appeal of PoF, which may be daunting to new players coming to the franchise.
5. Dynamic Weather - This would increase the overall atmosphere of the game and make the environment feel less static.
6. Lore Books - Lore has been presented in the past within GW2 but in the form of the game's typical UI. Virtual books with pages to flip through and examine would be a welcome improvement, along with a library in the home instance to store these pieces of lore.
7. New Discipline/ Improvements to Old - HoT came with scribing, however that was only for guild related content. A new discipline that wasn't guild related would be appreciated, along with improvements to old disciplines such as cooking and jeweler being increased to 500.
8. Fishing - This is something the community has requested for some time and is seen in every other MMO.
9. Mount Emotes - Although not everyone is into emotes, these are just some of the fundamental things that should go into having mounts.
10. More Emotes - Neither HoT nor PoF added any new emotes to the game, and this is something some of the community has been looking forward to.
11. Naming Mounts - Even if the issue is cluttering the screen with more nameplates, mounts should at least be able to be named via the mount selection screen.
12. More Dye Channels for Mounts - Mounts only have one dye channel, which extremely limits the amount we can customize the appearance of them.
13. Mount Interaction - There is no way for us to interact with our mounts outside of riding it; we spawn it under us, and it despawns when we jump off. This leaves them feeling more like tools than a companion.
14. Marketing - ArenaNet has not done the best job with marketing the game to new players or potential players outside the genre. There is very little advertisement regarding the expansions and Guild Wars 2 in general, which is negatively affecting the amount of potential new players we bring into the community.
15. Deluxe/ Ultimate Editions - To further elaborate on marketing, the deluxe and ultimate editions of the game offer very little in terms of benefits to the players, and aren't very appealing. These should have different packs, namely ones that include previous story content such as Living World Season 2 and 3 at a vastly reduced cost. In addition, there are no physical collectors edition box sets, which although not a lot of players would purchase, there is still a market of veteran players that would like to have something along those lines.
16. CGI Trailers - Prophecies, Factions, and Nightfall all came with these awesome scripted CGI trailers that looked fantastic and built a lot of hype for the game and the expansions, and haven't been done with GW2.
17. Map Content - The demo content was able to be completed in about an hour, and if the rest of the PoF maps follow suit then the entire content of Path of Fire will be able to be played through very quickly, perhaps even quicker than Heart of Thorns, despite having larger playable areas.
18. Instant Raptor - When players first arrive at the new Path of Fire maps they are given a Raptor mount with no time to cultivate any sort of relationship with it, and because it is given right away players never grow to appreciate having a mount after having to traverse the desert on foot.
19. No HoT Masteries - Almost all of the HoT masteries have no application in PoF, leaving players to feel as if all that progress was wasted. Even if it transferred to something else in the desert (ie. adrenal cacti), something would have been better than nothing. Obviously no content in PoF can require HoT masteries, but there should be some crossover to benefit players who put in the work in both expansions.
20. Unbound Magic - New maps don't have anything similar to Unbound Magic in terms of running over something to pick it up, or map currencies.
21. Underwater Content - Although a lot of players don't like underwater content, having just a little in PoF would have been welcoming.
22. New Weapons - Although HoT didn't include new weapons, it did include a new class and the game was still relatively new, but 2 years later we still have yet to see any new weapons be added. At the very least, underwater weapons could have made a transfer to above ground, such as spears and tridents. That isn't to say that scythes and greataxes wouldn't be welcome, but that elite specializations such as Dragon Hunter and Spellbreaker (which is based off of Paragons from GW1 who wielded spears) not being able to wield spears is a missed opportunity.
23. Boons on PvE enemies - A lot of the new elite specs and even the old and core specializations have boon steal/ boon rip/ boon corrupt, and these things are only effective in PvP leaving them utterly useless in PvE, as no mobs have boons. This leaves a huge portion of building untouched when it comes to PvE content.
24. Enemies Applying Conditions - Seeing as the amount of condition transfers/ negation that come with the new elite specs, and again even the old and core specs, we see very little conditions being applied by enemies, which again, leaves a portion of builds untouched.
25. Break Bars - Very little was done in PoF regarding break bars.
26. New Enemies - There was no equivalent to pocket raptors in this new expansion, which could have been done with something like scarab beetles.
27. Fractal Fundamentals - Fractals are in a good spot right now, but a few tweaks would be nice to see. For instance, the current difficulty of T4s should be what the difficult of T3s is like, so it's less boring to climb. Most veteran players just do T4s, and should have the option for more difficult content for better rewards.
28. Dungeons - Dungeons were abandoned back in 2013, and even if they aren't going to be constantly updated the existing ones should at least be looked at and brought up to 2017 standards.
29. UI Improvements - This is a pretty broad topic, but if we look at the amount of customization that was provided with GW1's UI, GW2 has none of that.
30. New Attributes - HoT gave us expertise and concentration, and PoF adds no new attributes which is a shame considering the amount that could be done with attributes such as condition damage/ duration reduction, and there are none related to barrier.
31. Voice Acting - A lot of the characters in PoF use the same voice actors from the core game and HoT, including story characters that should be unique.
32. New Armors/ Weapons - There isn't a lot of variety with the amount of new armor and weapon skins that are being released with PoF.
33. Guild Updates - There has been very little in terms of guild updates in the past 4 years, and seeing as the game is so player friendly there isn't a lot of reasons for players to interact with one another, and guilds are supposed to be there to pick up the slack. Unfortunately there haven't been any improvements to the guild system nor any additional guild mission updates, despite the devs stating that they wanted to add HoT guild missions, and this didn't happen for PoF either.
Well, that is everything from the video, and although it's quite long I did my best to do Wooden Potatoes video justice. Is there is anything that didn't make it to this list that you would have liked to see with Path of Fire?
Thanks for reading, and I hope to hear what everyone has to say!
Edit: Now that I am a full fledged member and am able to edit posts, I will be adding things that the community would have liked to see with Path of Fire or would like to see in future patches/updates, so we have a convenient list for everyone else to see!
What would the community have liked to see with Path of Fire?
1. Core Profession Balancing - A lot of the core professions have traits, skills, and weapons that are outdated, no longer viable, or just plain useless. These need to be revisted and brought on par with Elite Specializations, as Elite Specs are supposed to be a different way of playing a profession, not a better way.
2. Weapon Dyeing - This is something that has been requested for quite some time, and would allow us to further customize our character's appearance.
3. Player Housing - Although we have the home instance, there's no way to customize it. Player housing could be implemented in the form of individual, account wide 'miniature guild halls,' and could include upgrades that added crafting stations, farm land (for growing produce, purchasable via a seed vendor), bookshelves to store lore pieces, etc. Things such as mining nodes which were previously placed in the existing home instance could be migrated to player housing.
4. sPvP/WvW Updates - Although it was mentioned briefly in the video that we would likely see this down the road, it has been quite some time for any updates to these modes beyond superficial additions (except AT, which although buggy, were a solid implementation). New ranked game modes for sPvP such as 1v1 dueling, 5v5 deathmatch, capture the flag, king of the hill, etc. would be greatly appreciated. Edge of the Mists has been forgotten about, which is a shame as a lot of players did enjoy that mode, especially for leveling alts, and WvW hasn't received any map or mechanic changes beyond minor adjustments since around launch.
5. Bug Fixes - There are still a lot of bugs regarding combat abilities, meta events, and other features that have managed to make it to the Wiki that haven't been addressed, a good portion of which that have been already acknowledged by ArenaNet.
6. You tell me!