TACtical Overlay (also called TacO) is a safe and legal overlay for Guild Wars 2, powered by content created by players like you. TacO only uses the official APIs provided by ArenaNet and is developed with strict ToS compliance in mind. We can also find on the English version of the official forum a sub-forum for development and all the information and explanation when handling APIs (and development via these APIs is encouraged even it is to say if it is correct for the use intended by Anet since it is Anet itself that gives us the information used).
This overlay integrates perfectly with the game interface and offers many modules. TacO's strong point is that it is graphical, i.e. it will display markers on the screen to guide you through the game (Icons and explanatory texts). In addition, it offers you to set your own markers (which you can share through XML files).
There are several versions (distributions) of the overlay knowing that on the official site, you will only have the overlay empty of content. But the creative community offers many types of markers. From the indication of success, jigsaw puzzle jigsaw puzzles, harvest optimization, assistance in setting up a strategy for the Raids, to the provision of meta timers directly on the screen.
You can find the list of distributions below knowing that we work for the most part in collaboration via subreddit where you can directly ask your questions to the creators and the developer. I am not the developer of this overlay but one of the content creators and a complete version ready for use, however, I provide you with all the information about this overlay to let players benefit from this tool without being oriented towards one version or another.
Official website :
ReActif Package (EN-FR-DE) :
Tekki's Workshop :
GW2info.net :
Subbreddit :
Translations :
If you want to propose marker sites or integrate markers in a third version, you are free to do so.
Important
The software is intended to run on Windows 7 and above only, sorry for all those who play on MAC or Linux.
Here is an old video that shows quite well what TacO is actually like (There has been a lot of improvement since then)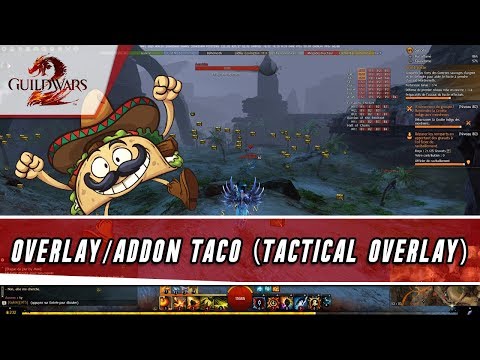 ---
I can't come here to inform you every time there is a new version of TacO or one of the creators uploads an update.
For some sites, you have access to RSS Feeds to be informed.
NB : This text has been translated by Deepl, if you notice any translation errors please let me know.