So, I understand some of the theory behind chrono-tanking, but I'm getting beat up anyway. I've seen the builds on Snow Crows and Metabattle and tried them out. I know Chrono has Blurred Frenzy on sword main hand, and Illusionary Riposte for sword off-hand, then Echo of Memory on the shield. I assume those are the defensive spells you are supposed to use to prevent damage. I guess with the illusions running distraction, this is supposed to make the mesmer tanky. Then I've got Gravity Well and Well of Calamity for some great CC on breakbars (it works really well I've found) and Well of Eternity and Well of Action as well for group buffing (which they are doing well).
And it definitely is tankier than my Elementalist main (no surprise there - everything kills that character if I don't nuke it fast). But I wouldn't call it tankier than my Guardian or Revenant, and definitely not as tanky as my Necromancer. I'm using a Chrono open-world boon-share build I took from a YouTuber (Nike) that seems to follow the theory behind the raid builds I've seen closely enough: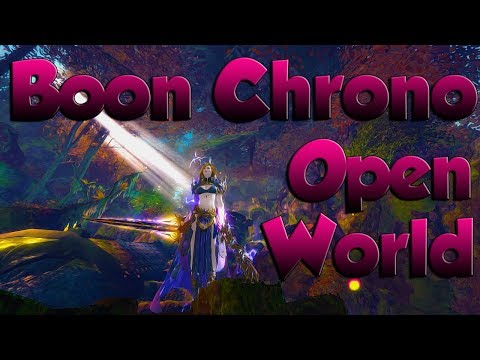 I had to use Berserker gear because I can't afford gear with specialized stats, but I didn't think it would make a massive difference... but anyway, I'm still getting pretty hammered in close combat on Heart of Thorns content. Chak Gerent... the big axe bosses on the Blighting Towers in Dragon's Stand... defend the camps events in Verdant Brink... it's not really working out. I'm getting curb-stomped. I swapped the off-hand sword out to a Greatsword as my main weapon, only using sword-shield as a panic-option when I get swarmed. Things got a lot better for me then. I could deal pretty good damage to things from a safe distance with my illusions distracting enemies and drop wells on groups of allies for big AOE damage and boon sharing. So it seems good, and I'm enjoying playing that way....
But I know this is not how Chrono-tanking is supposed to work. Greatsword sniping from afar is not how the concept is supposed to work. It's not "tanking" at all. But when I go toe-to-toe, I get in there, drop some wells, use my abilities on cooldown, and I'm getting stunned, knocked down, melted by poison. So I go back to Greatsword again where I can survive well (and it is pretty survivable).
I guess I just don't really "get" Chrono-tanking even though I've read a bit about it. Maybe I'm not supposed to use the shield abilities freely, but save them for when I know the enemies are using the big attack? But it really seems like a DPS loss to not use Blurred Frenzy on cooldown. Chak Gerent seems impossible - blue spit puddles that burn through your health, the blue donut insta-kill cloud, knock downs... I don't know how the players who are in close combat with that thing are even managing to do it without dying all the time. Ditto on the Axe guys in Dragon's Stand - how do you even stay close to that kind of firepower without melting? Are the Chrono block abilities precision instruments that are supposed to be triggered when you see the enemy telegraph an attack? If so, I feel a bit hopeless, because I've never been all that great at studying every tough enemy in the game for telegraphs.
I've seen the videos of Chronos standing right in the face of big bad enemies. I just don't get how they're doing it - it's a mystery to me.