After I checked out WP's video (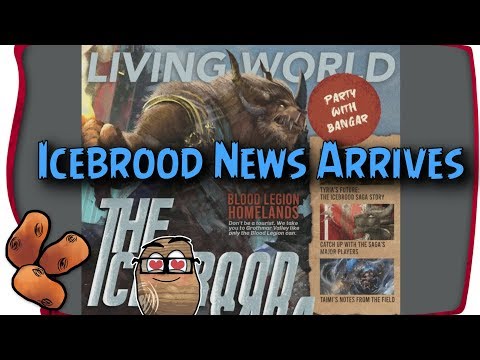 ) about the "Bound by Blood" Magazine, I saw an interesting comment about Taimi. In the video they talked about the possibility that Bubbles might be an enormous threat so that Jormag wants to provide help and persuades us to join him to grant us help in return.
Taimi said in one instance (LS 3) she forgot the name of one ED:
After exiting the simulation
Character name: Outside a few monkey anomalies, the room was very impressive. Next time, you'll have to program in some Jormag minions.
Character name: Any idea what's happening with the other Elder Dragons?
Taimi: Nothing on Kralkatorrik, and ditto for... Oh, what's its name? Brain malfunction. Starts with an s...?.
https://wiki.guildwars2.com/wiki/Taimi's_Game
That must be Bubbles because we already knew the names of all the other ED's. And here's what one comment under WP's video stated:
Abaddon was the god of water and secrets. His influence overran and claimed the Realm of Torment, and pieces of the Realm began to spill over into Tyria. The Chinese manuscript talks about Abaddon being beautiful once, and then he became dark and corrupted by something, presumably the Realm of Torment and his fight with Arachnia. After his fall, Kormir gave up the portfolio of water for an unknown reason, and it was later picked up by Lyssa for safekeeping. Why? And now we have talk about the water dragon being very much eldritch horror themed? I wonder if the water dragon became corrupted by the realm of torment, or by Adaddon's influence, or if the two are linked to Nightfall somehow. Selbbub, the dragon of water and secrets?
Even though I doubt that an ED got "corrupted" like this, the comment made me think about the relation of water and secrets in the Guild Wars lore.
So here's what I'm thinking: What if part of Bubbles magic is that everyone forgets information about him? Just like the Silence, for every Doctor Who fan out there. That would explain why we have so few details about him, just a few Canthan sailors told stories about strange things happening in the Unending Ocean. It would also fit thematically (deep water - bad sight - washing away stuff (like memories) - secret). Taimi wouldn't forget the name of an ED and I doubt she is lying to us - so it might be part of their (Bubble's) magic? So Sailors knew something happened but we never actually got a proof that it has something to do with an ED. Maybe just nobody is able to remember them or information about them (e.g. their name, appearance, whatever).
Finally this might fit the Cthulhu themed horror style the Devs mentioned in their announcement.
Just imagine fighting an enemy no one is able to remember - but everyone knows is there. Imagine story instances in which even we as the player don't know what happened because the screen gets black and our PC "teleported" to another location as soon as we are able "to see" again - just because the PC can't remember, too. Just imagine the ways one could portray this in game play. And maybe that's the reason, we might ending up joining Jormag? Maybe Bubbles is the threat they were warning about in the trailer? Maybe Bubbles is one of the "trials to come".
What are you guys thinking about this?