Heal scrapper+bannerslave comp is intended for PUG groups only, I am not suggesting this is meta, I am not suggesting that 5-man static groups begin running heal scrapper, crow_of_judgement.jpg
Heal scrapper+bannerslave comp is intended for PUG groups only, I am not suggesting this is meta, I am not suggesting that 5-man static groups begin running heal scrapper, crow_of_judgement.jpg
Heal scrapper+bannerslave comp is intended for PUG groups only, I am not suggesting this is meta, I am not suggesting that 5-man static groups begin running heal scrapper, crow_of_judgement.jpg
Recommended comp for running heal scrapper includes a static bannerslave (someone who can do t4 dailies with you everyday as a might generating bannerslave), and potentially advertise for a quickbrand or chrono. Remaining 2 can be DPS unless you choose to go with 3 DPS instead of a chrono/quickbrand, which tends to be fine.
Pros for running heal scrapper:
Ridiculously good heals if done properly. Very good revive capabilities by clicking the downed party member's icon within party and pressing F to gyro-res while continuing to heal other players.
~80% protection uptime
~80% fury uptime
Some passive might generation with elite skill
Condi conversion into boons makes condi-heavy fractals extremely easy
2 Stunbreaks
Technically 4 blast finishers but you'll only use 3 most of the time
Technically 3 CCs but you'll only use 1 most of the time
Self-apply quickness to increase healing output whenever might is over the trait threshold
Stealth gyro/rocket boots come in handy for some mechanics
Cons:
Not much CC - definitely no entangle
No passive damage buffs like druid
Only source of alacrity/quickness is from condi cleanse
Build: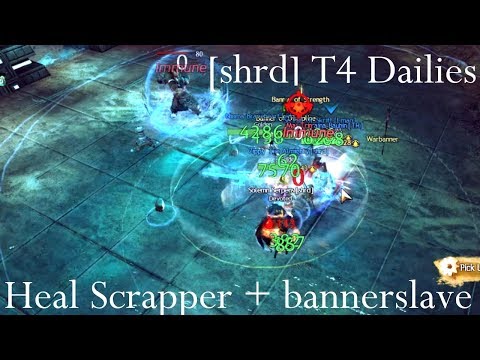 FAQ
"You can hard-carry with any healer..."
This is only half-true. The problem with "any healer" is that most healers in pug groups barely reach 1.5k to 3k sustained heals per second, whereas scrapper reaches 5k and higher per second and is constantly pumping out boons through condi conversion while doing this. I've seen Teapot hard-carry with a heal scourge, that's about as close as I've seen to it. Firebrand runs out of heals and chokes during pressure and druid is very slow at healing, along with the added problem of most heal druids being half-asleep most of the time for some reason.
"Druid has more offensive buffs"
Yes. You can clear your dailies a few minutes faster theoretically and possibly wipe once or twice. I prefer to clear slightly slower but usually end up completing them faster in comparison because we didn't wipe at all. Bannerslave will max out your might, chrono provides additional support, and heal engi provides fury/protection uptime. It does work.
Also I don't know how hard this post is going to be scrutinized so I'm just going to pre-emptively mention that we've been running this for over a month and a half and still haven't failed a single fractal/daily. It should work on every fractal. We usually clear dailies in 30min, give or take some time depending on what the dailies are.
Note that I run ministrel because I don't use this build in raids. Only fractals (and a variant of this in WvW).
| Solemn [DoM][PAL][BOZ][shrd] |
| NSP (main) | Anvil Rock (alt)