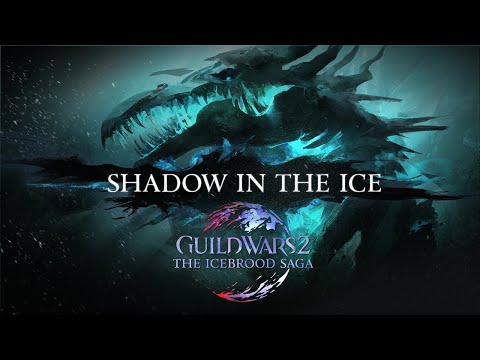 What I noticed:
1. First shot we see the Jormag statue, we could see some already with an update at some point, looks like they have some abilities to take control over people
2. Garm is back! He approaches the Wolf statue with Jhavi, Braham and the Commander. Wolf is the Spirit that reminds the Norn they should never fight alone.
3. Then we see Kodan, that as the Wolf Spirit say can't for some reason hear the Spirits of the Wild, but Braham can, also for some reason. I guess because there is some sort of prophecy to fullfill, maybe it turns out Eir did make some vows to the Spirits to give Braham protection when the time comes. Especially Wolf, since he, as Eir was devoted to this particular Spirit since forever. A nice touch to give those previous moments from Braham's past, finally we will see the consequences of Braham's chiping the Tooth, so that's cool.
4. And then the map part begins with the pictures of expanded Bjora Marches, The broken Kodan ship, wasteland and gorgeous forest with a weirdly infused... Boneskinner. (0:53), and some sort of Spirit channeling with I guess devoted to Spirits havrouns.
5. Then I really great motif with the Commander facing himself in the Strike Mission, which already teases the final boss of the episode - the Commander him/herself - something similar we saw in Season 3 in One Path Ends during one of the Shining Blade's trial:
Livia: And that led many among our ranks to doubt, fear, regret... Inner demons.
PC: Inner demons? Believe me, I'm bombarded by them every day.
Livia: Now you must face those that bother you most, so you can overcome them when someone uses them against you
But I wonder how it will look like when there will be 10 people in the single Strike Mission... Maybe it will switch between different characters and their professions, so it will be kind of know your opponent's profession to know when to deal attacks, some sort of tactics depending on the different profession, I don't know, can be cool knowing we have 12 profession, it may be really fun if they go this way, and not the easy one that a boss just picks on random character's looks and profession and we fight with it for 5 mins like any other champion. So there is hope it may be cool and fun.
I've always wanted Raven armor set to make it fit Nevermore completely. Really cool touch. and thing to work on by playing.
Then we can see Rytlock and Crecia too (that apperently catched up with us at some point), as release page says: Rytlock and Crecia have fallen out of contact, and now it seems Braham is striking out on his own to find them. This is the worst moment for your allies to isolate themselves. Touch base with Jhavi at Jora's Keep and learn what she knows.
If they tease so many little things already in the trailer that you can easily catch frame by frame, then there must be something really surprising in the end or something crazy happens when Drakkar dies/not dies, or both.
I really LOVE this tunnel with Drakkar just swimming just near it, looks so crazy scary, hopefully there is some sort of instance and open world thing with Drakkar, knowing his story in the lair or uncovering secrets of Svanir's origins and how it all happened with Jora, some sort of throwback from GW1. Could be really cool to see.
Really awesome animation with Drakkar spreading around this weird goo similar to the Boneskinner.
It can be a very cool episode, it certainly will.
The oldest and strongest emotion of mankind is fear, and the oldest and strongest kind of fear is fear of the unknown.
H. P. Lovecraft